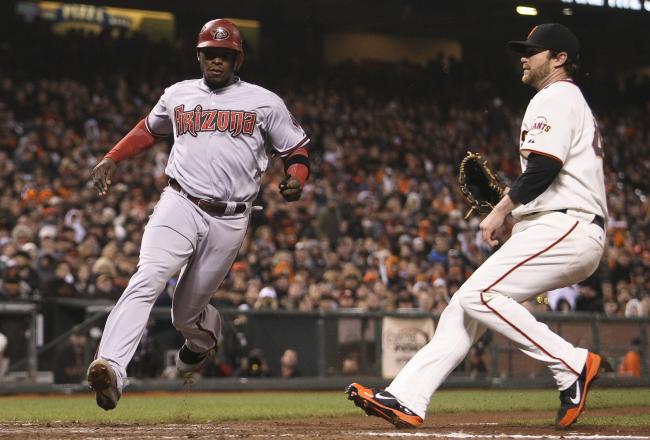 This is a picture involving Dan Runzler
In 2008, when Justin Upton was 20, he hit a 458 ft. home run, the 2nd longest home run in Chase Field History.
The longest home run in Chase Field history was hit by Richie Sexson (503ft.). This has no relevance to the article, I just wanted to note something about Richie Sexson.
In 2009, when Justin Upton was 21, he had a .385 wOBA and was nearly worth 5 Wins Above Replacement.
In 2011, when Justin Upton was 24, he finished 4th in the MVP voting.
There are a couple ways to look at this as a Giants fan. One is that the the Diamondbacks traded Justin Upton for 1 year of Martin Prado, a projected 5th starter, 2 B- prospects and one C+ prospect. Which after a quick google image search, leaves me wondering which person in this picture is D'backs GM Kevin Towers:
Also now you know Kevin Towers likes hanging out at 76 gas stations.
Ken Rosenthal is reporting
this was a move to improve the clubhouse and Justin Upton wasn't gritty enough. The internet was not kind to this part of the trade. Insert Aaryan Theriowand joke.
It's a perplexing move, and as a Giants fan you're thrilled that Justin Upton will only haunt your dreams 6 times a year instead of 753 18 times a year. But if we're only looking in the short term, Martin Prado had a better year than Upton last season, but if we isolate hitting:
2012 Justin Upton: .280/.355/.430
2012 Martin Prado: .301/.358/.438
The difference is that Prado was worth 5.9 wins while Upton was worth 2.5, which is a very sizeable difference. Prado played a more valuable position, played in a much tougher park to hit in, and had a much more valuable defense year. While the two players were probably not as drastically different as their WAR suggests, Prado still clearly had a better year.
The Diamondbacks should be improved next season, at least in comparison to where they were last season. Upton struggled, relatively speaking, in 2012, so in that sense, the Diamondbacks improved their team from a year ago, adding the better Prado. In 2012, Upton and Chris Johnson accounted for 4.2 wins, while their replacements for 2013, Prado and Cody Ross, accounted for 8.2 wins. Of course, that's a blanket statement considering that was 2012, and in 2013 the Diamondbacks had a chance to have both Ross and Upton, who's upside is somewhere in outerspace. But if we're purely saying is this team better than last years team as currently assembled, the answer is yes.
The point is, the Upton trade was a a poor one, but it did not come close dismantling the short term prospects for the Diamondbacks.
GrantBrisbee at McCovey Chronicles
still believes the D'backs pose the biggest threat to the Giants in the NL West. Arizona still has incredible depth in their rotation, and Martin Prado is an excellent hitter, adding to an already solid lineup. While you were reading that sentence Paul Goldschmidt hit 2 home runs off Tim Lincecum.
The D'backs are still very good, and they may well have a better team than the Giants right now. But now that we got that out of the way, let us consider the Diamondbacks and their offseason. They traded Trevor Bauer and Justin Upton, for two Major Leaguers, Martin Prado and Randall Delgado, and 4 prospects, none of which project to be above average major leaguers. Let us ponder this before it's too late and the Diamonbacks win the 2013 World Series. Because that's a very real possibility.
I'm going to think about not facing Justin Upton instead.